Make Faster, Safer Transactions With Your Contactless Card!
Your new card is equipped with the latest contactless chip technology! No need to insert your card in the point-of-sale terminal and wait for approval – just tap & go to pay!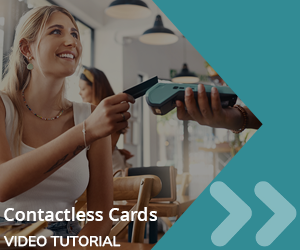 Why use contactless payments?
Saves time at checkout

Enhances security for your card information

No-touch transactions – your card works within 1-2 inches of the terminal
How do I use contactless payments?
| | | |
| --- | --- | --- |
| Look | Tap | Go |
| | | |
| Locate the contactless symbol on the point-of-sale terminal | Place your card over the symbol to pay quickly with just a tap | Your payment is completed in seconds! |
Frequently Asked Questions About Contactless Cards
Contactless cards, otherwise known as tap to pay, use near field communication (NFC) to securely complete payments at a contactless-enabled merchant terminal.

What is a contactless card?
Yes, the security level of a contactless payment is the same as contact chip cards.

Are contactless payments secure?
Most debit cards now include contactless functionality. A contactless card will be mailed to most customers prior to the expiration of their current card. Contactless cards are available upon request for most types of cards.

Can I request a contactless card?
Look for the contactless indicator contactless symbol graphic on the front of your debit or credit card to determine if it's capable of contactless payments. If you don't see the symbol, you can still use the card by inserting or swiping it.

How do I know if my Chemung Canal card is contactless enabled?
It's secure — Enjoy the same security as chip cards used at chip-enabled terminals because each contactless transaction uses a one-time security code to protect your payment information.
It's easy — Transactions are smoother than ever with fewer surfaces to touch. Simply tap your card on the checkout terminal to make a purchase.
It's fast — Your card is read in seconds, so there's less waiting to remove your card from a chip terminal.

Why would I want to make a contactless payment?