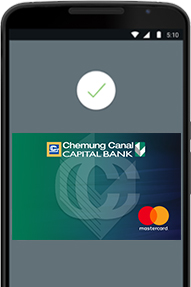 Google Pay with your Chemung Canal Mastercard®.
Google Pay gives you a simple and secure way to pay at more than one million locations across the U.S. Get the app today. Download Google Pay
---
Simple Setup

Once you have the Google Pay app you can add your Chemung Canal Mastercard® debit, or business debit and credit to use them with Google Pay.

Easy to Use

Look for the contactless symbol wherever you shop. To use your MasterCard with Google Pay, simply unlock your device and hold it near the terminal to pay.

Extra Security

When you make a purchase with Google Pay, a virtual account number is used to represent your account information.
Find merchants around the country that accept Google Pay.
Frequently Asked Questions
What do I need to use Google Pay? To use your Android phone to pay in stores, you need an NFC and HCE enabled Android device running KitKat 4.4+, and the Google Pay app. If you don't already have the app on your device you can download it from the Google Play Store. What Chemung Canal debit or credit cards can be used with Google Pay?
Consumer Debit MasterCard
World Debit MasterCard
Business Debit or Credit cards
VISA Platinum Credit Card
How do I use Google Pay?
Unlock your device. No need to open the app.
Hold the back of your device near the contactless payment terminal.
Your phone will beep or vibrate, and you will receive a confirmation on screen to show your payment was made.
What should I do if I'm having difficulty adding a card? Chemung Canal is standing by to help. Just call us at 800-836-3711 during business hours or call 844-646-5465 after hours for assistance.
What is a virtual account number? Your credit and debit card number is assigned a unique virtual account number that's used at checkout, so your full card details are not shared with the store when you pay. Think of it as a digital stand-in for your payment information.
When will I need my virtual account number? How do I find it? You'll need your virtual account number if you would like to make a return on an item purchased with Google Pay. To view the last four or five digits of your virtual account number go to "Card Details" or "Transaction Details" within the Google Pay app menu. Or hold your device near the contactless terminal and select the card you used to make the purchase.
---
*Google Pay is compatible with NFC- and HCE-enabled devices running KitKat 4.4 and above. Learn more at pay.google.com.
Google Pay logo is a trademark of Google Inc.
®MasterCard and the MasterCard brand mark are registered trademarks of MasterCard International Incorporated.