Our History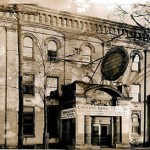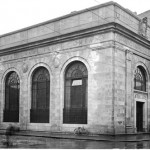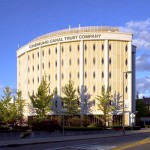 Read the 1833 Legislation Creating Chemung Canal Bank
Since October 22, 1833, Chemung Canal Trust Company has provided continuous, progressive financial and credit services to this area. When the doors first opened, Andrew Jackson was President of the United States, which consisted of only 24 states, veterans of the American Revolution were still living, and the City of Chicago was established by 350 settlers. Only two years earlier, the first steam-propelled locomotive made its initial trip from Albany to Schenectady; stage coach lines were still big business; the Chemung Canal had just opened; and, the Erie Railroad was still a dream.
The first bank statement dated November 2, 1833, 10 days after opening for business, showed assets of $318,525, with deposits of $10,390. Our current financial statement shows how far we've come. After one year in temporary quarters, the bank moved into its first permanent home at 413-415 East Water Street, in Elmira. The original bank building still stands and is now the home of the Chemung County Historical Society (the picture to the left was taken soon after Chemung Canal moved to its new headquarters in 1920). This building served the bank for 86 years, until 1920. By that time, the bank needed larger quarters and moved into a new building at 129 East Water Street. Fifty-one years later, in August 1971, the bank moved into its present Main Office at One Chemung Canal Plaza. The building at 129 East Water, which was on the southwest corner of our parking lot, was demolished at that time.
Chemung Canal Trust Company has a unique history of having been both a public corporation and a private family bank. When originally chartered, the bank issued stock and was publicly owned. In 1857, John Arnot's family gained control of the bank and operated a private family bank for 46 years. In 1903, the bank returned to public ownership and added trust powers to its general banking activities. The 1950s saw the growth of consumer banking and a single office was no longer sufficient to serve the area. Chemung Canal Trust Company opened its first branch office June 4, 1951. With this beginning, a convenient network of branches was added to serve our customers.
Their locations and dates of opening are as follows:
Date
Location
06/04/51
Westside Office 628 W. Church St., Elmira
10/02/62
Horseheads Office 602 S. Main St., Horseheads
08/03/64
Big Flats Office 437 Maple St., Big Flats
11/16/67
Arnot Mall Office Chambers Road, Big Flats
08/03/70
Southport Office 951 Pennsylvania. Ave., Elmira
05/01/74
Montour Office 303 W. Main St., Montour Falls*
10/21/74
Waverly Office 405 Chemung St., Waverly
08/02/76
Heights Office 100 W. McCann's Blvd., Elmira Heights
04/22/85
Corning Office 149 W. Market St., Corning
06/04/94
Bath Office 410 West Morris St., Bath**
06/04/94
Painted Post Office 222 North Hamilton St., Painted Post**
06/04/94
Watkins Glen Office 318 North Franklin St., Watkins Glen**
01/03/95
Owego Office 203 Main St, Owego***
11/04/05
Community Corners Office 903 Hanshaw Road, Ithaca
05/22/06
The Station Office 806 W. Buffalo Street, Ithaca
09/14/07
Binghamton Office 127 Court Street, Binghamton
03/17/08
Oakdale Mall Office 601-635 Harry L. Dr., Johnson City****
03/17/08
Tioga Office 1054 State Route 17C, Owego****
03/17/08
Vestal Office 100 Rano Blvd., Vestal****
06/01/09
Canton Office 5 West Main Street, Canton, PA±
06/01/09
Towanda Office 304 Main Street, Towanda, PA±
06/01/09
Troy Office 159 Canton Street, Troy, PA±
04/11/11
Chemung Canal Trust Company acquires Capital Bank, of Albany, NY Albany Office, 1375 Washington Avenue, Albany, NY Albany Office, 145 Wolf Road Clifton Park Office, 7 Southside Drive, Clifton Park, NY Latham Office, 594 Loudon Road, Latham, NY Slingerlands Office, 1365 New Scotland Road, Slingerlands, NY
11/25/13

Chemung Canal Trust Company acquires 6 Bank of America branches:

Elmira Road, 304 Elmira Rd., Ithaca, NY

The Commons, 202 The Commons, Ithaca, NY Cortland, 1094 Highway 222,

Cortland, NY Genesee Street, 120

Genesee St., Auburn, NY; Grant Avenue, 185 Grant Ave., Auburn, NY; Seneca Falls, 54 Fall St., Seneca Falls, NY

01/08/18
Schenectady Office, 2 Rush St., Schenectady, NY
04/30/18
Wilton Office, 3057 Route 50, Saratoga Springs, NY
5/4/21
Clarence Loan Office, 9159 Main Street, Suite 1B, Clarence, NY 14031
Visit our Offices & ATMs page to access our directory of current locations, as well as an interactive map of our banking locations.
*In 1974, the bank acquired the former Montour National Bank at Montour Falls.
**In 1994, the bank acquired the former Columbia Banking Offices of Bath, Painted Post and Watkins Glen.
***In 1995, the bank acquired the former Owego National Bank of Owego.
****In 2008, the bank acquired the former M&T Bank Offices of Johnson City, Owego and Vestal. In 2009, the bank acquired the former Bank of Canton of Canton, Pennsylvania.