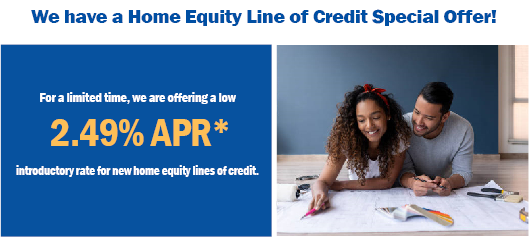 Let Us Help Build Your Tomorrow.
Through the course of our bank's history, we have helped countless plans, goals, and dreams reach their destination. We understand the journey is not always predictable. That's why at Chemung Canal we offer a wide range of home improvement loans that will get you on track to building your dream home. With competitive rates and flexible terms, our loan options are designed around your needs.

Wherever You Plan to Go, Take Chemung Canal with You.
Our loan options can be tailored around your needs. Need to add another bathroom, or are you finally ready to remodel your kitchen?
Check out what we have to offer:
Home Equity Line of Credit Special Offer!
For a limited time, we are offering a low 2.49% APR** introductory rate for new home equity lines of credit.
**APR = Annual Percentage Rate. Minimum line of $10,000 required – subject to credit approval. The APR will be 2.49% for the first 12 months from the closing date of the line. After 12 months, the APR will adjust to the highest Prime Rate published in the Wall Street Journal on the last business day of the prior month. Assuming no change in the current Prime Rate as of August 31, 2021, the APR after 12 months would be 4.00%. The lifetime cap for the line of credit is guaranteed not to exceed 16.00% APR, with a floor of 4.00% APR. You will be required to reimburse Chemung Canal certain fees paid to third parties if the line is terminated within three years of the opening date. These can be as low as $765.33 for a $10,000 credit line or as high as $2,190.33 for a $200,000 credit line. Collateral mortgage required to be filed. Consult your tax adviser for more information regarding the potential deductibility of interest and fees.