Bill Payment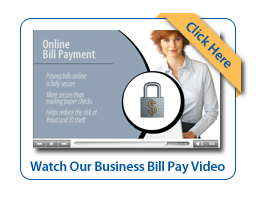 Bill Payment will allow you to pay your vendor payments on-line right from your computer. Payments can be scheduled as recurring or on demand. Most major vendor payments transmit electronically within two business days.
Benefits:
Saves time and money versus writing and mailing checks
Easy to use calendar shows you the earliest date your payment can be received by your vendor
Allows you to schedule future dated payments
Enables you to set up payment reminders - never make a late payment again!
Member FDIC