Business Banker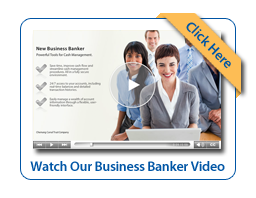 Our on-line Business Banker gives you a secure and direct link to your account information right from your computer. Get up-to-the-minute information on your account balances and transaction history, and transfer funds between your accounts at Chemung Canal Trust Company or any other financial institution. In addition, Business Banker will allow you to upload ACH formatted files created with your software or our Premier ACH product directly to us for processing direct deposit payroll, direct debit collections or vendor payments.
Benefits:
Retrieve up-to-the-minute account balance and transaction information from any computer with internet access
Transfer funds between your Chemung Canal Trust Company accounts or any other financial institution electronically
Transmit your direct deposit payroll, direct debit collection or vendor payment files to Chemung Canal Trust Company for processing to any financial institution in the US
Individually customize access and ability for each of your authorized users
Preview our Business Banker service with our demo. Feel free to call us directly at (607) 735-4030 or contact us to email us for more information or to sign up for Business Banker. One of our e-Business specialists will help you get your business banking on-line quickly.
Already enrolled for Business Banker? Sign in here.
Member FDIC